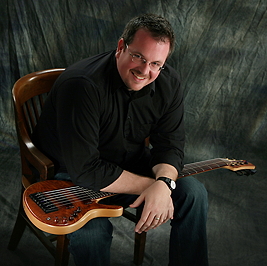 A member of the Lafayette community since 1999, Scott Pazera has been playing bass guitar, standard guitar, and acoustic bass for almost 30 years and is a motivated instructor, small business owner, and spirited performer. Scott has been performing publicly with his own jazz groups and often works as a sideman to some of the top performers in the Midwest. Scott has performed and/or recorded with artists such as Rich Little, Charlie Hunter, Veruca Salt, Ce Ce Peniston, Med Flory (Supersax), Fareed Haque, Henry Johnson, Bill Lancton, Byron Stripling, Rob Dixon, Corey Christiansen and many others.
Scott holds a Master's Degree in Music Technology from IUPUI as well as a Master's in Public Administration from Indiana University. This year marks his fifth as the Jazz Band Director for Wabash College in Crawfordsville, IN. Scott teaches privately at his home, two different music stores in Lafayette, and as an adjunct instructor with the Jazz Band and Combos at Lafayette Jefferson High School.
Board leadership: I have been a Jazz Club board member for three years, serving as chair of a project to help bring awareness of and community support for the art of jazz. I have organized and collected donations and corporate sponsorships to support weekly Jazz Appreciation Month (J.A.M.) jam sessions every April and October and have served as their musical director. I will continue leading this project to help us realize our mission.