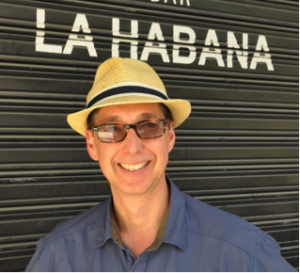 Gerald is a 20-year resident of West Lafayette, having moved here to join the Purdue faculty in 1996. He's been a member of the Jazz Club and an active participant in Jazz Club activities since 2010.
"When I was young, my music teachers, friends, and family members recognized in me a fundamental lack of both natural music talent and discipline, and they strongly encouraged me to devote my energies to becoming a better music listener. I have followed that advice assiduously ever since. I discovered jazz while listening to late night college radio as a high school student growing up in Dayton, Ohio in the late 1970s. Careful to maintain my standing among peers, most of whom were heavy metal aficionados, I cleverly kept my interests hidden by wearing headphones and storing my cassettes out of sight, until landing at college in Boston in the early 80s. Given the time and place, I naturally had to work my way backward through the jazz catalog, transitioning from Fusion, Bop, and Swing to Ellington and Armstrong, before making a barnyard turn and heading back to the present, where I now happily reside."
Board leadership: I will try to serve the interests of both serious and casual jazz fans in our community. I plan to devote my efforts to member relations. I'd like to get a better sense of what members want from the Club, not only in terms of locally-delivered live music but also with respect to other jazz-related experiences. I will work with the board to meet members' desires and expectations and to grow our membership, especially with younger listeners who might be encountering jazz for the first time.