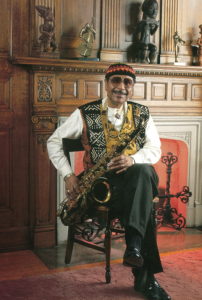 The Jazz Club is pleased to announce the Second Annual Zamora Scholarship in the amount of $500, in honor of Lafayette saxophonist and bandleader Tony Zamora.
High-school students from the following counties are eligible to apply/audition: Benton, Boone, Carroll, Clinton, Fountain, Montgomery, Tippecanoe, Warren, and White.
Students competing for this award will audition, live, accompanied by a professional rhythm section. 
Sunday, April 2, 2017
3:00 PM
Purdue University Fountain Gallery
330 Main Street
Lafayette, IN47901
To enter:
Students must apply by email to scholarship@thejazzclub.org to register as a participant and agree to participate in the live audition
Be sure to list your instrument, the name(s) of your recommending music teacher(s),
and your town and county
There is a $20 application fee, payable by check in advance or on the day of the audition.
If mailing ahead, send to (please be sure the student's name is indicated on the check):
The Jazz Club
Attn: Zamora Scholarship
P.O. Box 242
Lafayette, IN  47902-0242
---
In addition, entrants must be recommended by their school or private music teachers
Teachers must email recommendations to scholarship@thejazzclub.org
Be sure to list your name, your teaching relationship to the applicant,
and the student's name and town/county.
---
Entrants will perform two jazz standards at tempos of their choosing:
Now's the Time (F blues, Charlie Parker)
Anthropology (Bb rhythm changes, Charlie Parker)
accompanied by a professional rhythm section.
---
Scholarship judges:
Lynn Colwell, bassist
Drew Cox, percussionist
Jamie Newman, pianist and organist
Don Seybold, host of WBAA-AM 920's Inside Jazz
Danny Weiss, saxophonist
Jeff Wimble, guitarist
---
Jazz Club Zamora Scholarship is endowed through the Community Foundation of Greater Lafayette. We thank our previous donors for their generous support this The Jazz Club project and the opportunity it represents to foster the future of jazz!
We continue to welcome contributions to the endowment fund through the Community Foundation. Your support will help to ensure the future of this scholarship.
Don Seybold and Danny Weiss, Co-chairs
Follow the Community Foundation web link to donate online:
or
Click here to download a form that you can print and submit with your check
Your checks must be made out to The Community Foundation of Greater Lafayette.
[Please indicate Tony Zamora Jazz Club Endowment Fund on the check.]
Mail checks to:
Community Foundation of Greater Lafayette
Attn: Candy Silver
1114 E State Street
Lafayette, IN 47905